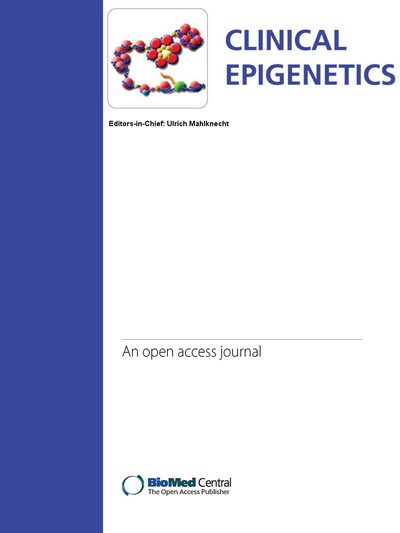 Clinical Epigenetics - Impact factor 4,543 (2015)
---
Clinical Epigenetics, is an open access, peer-reviewed journal that encompasses all aspects of epigenetic principles and mechanisms, as well as reports on defects of epigenetic regulation, in relation to human disease, diagnosis and therapy. Epigenetic research in disease model organisms is particularly welcome.
Topics of interest include, but are not limited to:
Clinical epigenetic research
Chromatin modification/Histone modification
Epigenetics and disease
Epigenetics and aging
Epigenetics in developmental processes
Epigenomics and pharmacoepigenomics
Non-coding RNA and gene silencing
Epigenetics, environment, nutrition and evolution
Clinical Epigenetics studies epigenetic changes in normal and diseased cells in response to internal or external factors with the aim to translate basic epigenetic research into diagnosis, therapy and prevention.
For more information on Clinical Epigenetics, to sign up for article alerts, or to submit a manuscript, please visit the journal website or contact the Editorial Office.
Editor-in-Chief
Professor Ulrich Mahlknecht, MD, PhD
Universität Heidelberg
St. Lukas Klinik Solingen
Schwanenstrasse 132
D-42697 Solingen
Reviews Editor
Professor Marianne Rots, PhD
Associate Editors
Aging, development and imprinting
• Dr Maria Berdasco Bellvitge Biomedical Research Institute (IDIBELL), Spain
• Professor Monika Puzianowska-Kuznicka Warsaw University, Poland
Allergy and immunology
• Professor Rachel L Miller Columbia University Medical Center, United States of America
• Dr Kari Nadeau Stanford University, United States of America
Cancer and hematology
• Professor Lucia Altucci Seconda Universita di Napoli, Italy
• Professor Richard L Momparler University of Montreal, Canada
Epigenetic diagnostics and therapeutics
• Dr Maria Berdasco Bellvitge Biomedical Research Institute (IDIBELL), Spain
• Professor Richard L Momparler University of Montreal, Canada
• Professor Marianne Rots University Medical Center Groningen, Netherlands
Innovations and hypotheses, molecular epigenetics
• Dr James Davie University of Manitoba, Canada
• Professor Bryan Turner University of Birmingham, United Kingdom
Neurology and psychiatry
• Professor Jonathan Mill University of Exeter and King's College London, United Kingdom
Nutrition, endocrinology, metabolic and environmental disease
• Professor Monika Puzianowska-Kuznicka Warsaw University, Poland
• Dr Richard Saffery Murdoch Childrens Research Institute, Australia
Editorial Board
Dr Nita Ahuja

Johns Hopkins University, United States of America

Dr Steven A Belinsky

Lovelace Respiratory Research Institute, United States of America

Professor Robert Brown

Imperial College London, United Kingdom

Professor James CS Chim

University of Hong Kong, Hong Kong

Professor Roderick Dashwood

Texas A&M Health Science Center, United States of America

Professor Karl Ekwall

Karolinska Institutet, Sweden

Professor Peter D Gluckman

The Liggins Institute of Medical Research, New Zealand

Professor Joel Gottesfeld

The Scripps Research Institute, United States of America

Dr Steven Gray

St James's Hospital, Ireland

Professor Georges Herbein

Franche-Comte University, France

Professor Ricky W Johnstone

Peter MacCallum Cancer Centre, Australia

Professor Yutaka Kondo

Nagoya City University Graduate School of Medical Sciences, Japan

Professor Nicholas La Thangue

University of Oxford, United Kingdom

Professor Jonathan Licht

Northwestern University School of Medicine, United States of America

Professor Eamonn Maher

University of Cambridge, United Kingdom

Professor Saverio Minucci

IFOM - IEO, Italy

Professor Pamela N Munster

University of California, United States of America

Dr Adele Murrell

University of Bath, United Kingdom

Professor Clara Nervi

University of Rome La Sapienza, Italy

Professor Andreas Neubauer

Philipps Universität Marburg, Germany

Professor Stephen Nimer

University of Miami, United States of America

Dr Arpad V Patai

Semmelweis University, Hungary

Professor Ed Seto

Moffitt Cancer Center, United States of America

Professor Trygve Tollefsbol

University of Alabama at Birmingham, United States of America

Professor Toshikazu Ushijima

National Cancer Center Research Institute, Japan

Professor Carine Van Lint

University of Brussels (ULB), Belgium

Professor Eric Verdin

J David Gladstone Institutes, United States of America

Professor Olaf Witt

German Cancer Research Center, Germany

Professor Vlatka Zoldos

University of Zagreb, Croatia